DESCRIPTION
Enjoy an entire 800 sq.foot One bedroom fully furnished apartment at Marion Extended Stay Short Term Rental Apartments. Minimum one month stay, maximum 8 months stay with extension upon landlord approval. All international communities are welcome.
This fully-furnished rental apartment has one full-sized bed, washer, dryer, and dishwasher. The bedroom & living room have HD TVs and free WiFi. Huge larger size bedroom 12'x10′ have Full Sized Platform Bed With Pull Out Clothes Drawers. This apartment has a dining room, bedroom, kitchen, huge walk-in closet. Countless brand new features and amenities. Guaranteed to be spotlessly clean upon your arrival. Optional private parking space at a monthly cost. Bedding and towel sets are always guaranteed brand new upon guest arrival.
RESERVATION POLICY
Monthly Rent is $3,600.00 USD.
Final Cleaning Fee $300.00 Will Be Required Charged To All Reservation Bookings, Onetime Fee Cost.
All Utilities Included: Gas, Heat & Hot Water, Air Conditioning (Ice Cold) High Speed Internet Wi-Fi, Bi- Monthly Housekeeping Service, Final Cleaning, Netflix, Pest Control Preventive Maintenance Services.
Electricity Is Not Included.
Mandatory Security Deposit $3,600.00 due upon arrival Check-In @ Marion Extended Stay and returnable after Check Out End Of Booking Duration
100 Percent Guarantee Blazing Hot Water & Heat Guest's Control Heat And Air Conditioners, Manual Or By Smart Thermostat
Furnished Apartments Are 100 Percent sanitized after each Check-Out Booking, desensitized Incurring By CDC And New York City Health Department Policy.  
The landlord has the right to reject applications and full refund will be returned. Please note All Potential Applications Must Go Throught Vetting Process.
Optional Private Secured Off Street Parking Space $400.00 per Month
Optional Bi-Weekly Housekeeping Is Available At Additional Cost Upon Guest Request
All Bookings Less Than 90 Days Duration Must Pay 14.75 Occupancy Sales Taxes Due Upon Arrival Check In @ Marion Extended Stay.

1 Double-Sized Bed
Master Bedroom- 1 double-sized bed with pull-out drawers, huge walk-in closet, HD TV, and brand new bedding.

Fully Equipped Kitchen
Coffee maker, dishes, utensils, dishwasher, microwave, oven, refrigerator, freezer, stove, toaster.

1 Washer/Dryer
Fully equipped washer and dryer.

Free Wifi
Wifi information available upon request.

Parking
Optional private parking space at a monthly cost.

Close to Transit
Walking distance to public transportation with an easy commute into Manhattan and all around New York City.
Comfort

Central Heating, Air Conditioning, Washer/Dryer, Hot Water, Indoor Fireplace, Dryer Rack, Private Entrance, Parking

Bathroom/Toiletries

Hair Dryer, Iron, Iron Board, Bathtub/Shower, Toilet Paper, Soap
Kitchen

Oven, Stove, Refrigerator, Utensils, Microwave, Coffee Maker, Dishwasher, Toaster

Entertainment

Cable Television, Internet, DVD Library, Netflix account
Safety

Fire Extinguisher, First Aid Kit, Carbon Monoxide Detector, Smoke Detector, Surveillance Cameras

Essentials

Towels, Bed Sheets, Pillows, Hangers, Electricity, Gas, Running Water
Gary was a gracious host. He was accommodating and quick to provide me with anything I needed. He is also a very nice, reasonable person, who is easy to get along with. His apartment is quite comfortable with many amenities, including a dishwasher and washer/dryer. I would recommend!

We stayed in there for three months, and It was really great time for me and my boy friend. The host, Gary is fully thoughtful, and always tries to make us feel comfortable. Also, everything in house was better than what I saw on photo. Neighborhoods were also really kind and

Gary is one of the nicest, most professional people I've ever had the pleasure of doing business with, on any level. We stayed with him for 9 months and he took care of everything with no issues. I can't recommend him enough!

It was a very clean place with good security. Gary was a very attentive host who ensured our stay was hassle free.

This apartment is nice and quite. We spend one month in this place and we feel satisfied to here. Inside this house has almost everything we need and speed of Wi-Fi is amazing and we already miss it. Gary is a nice person and he really helps us a lot during that one month. He respond our messages very fast and he cares people living in his house very much. So feel free to ask him when you have questions and problems. It is convenient to take public transportations around this house, like there is only 5 minutes walk from home to subway station, which means it is easy to go to Manhattan by subway. Also, supermarkets are closed to this house, so getting daily consumables is not a problem to us. Anyway, we are satisfied to this house and strongly recommend here.

Firstly, Gary is a wonderful host with an apartment that has absolutely everything you can think of! The apartment is massive, very comfortable and super clean! It is located a short walk between two subway stops on different lines that take you to the city within 45 minutes. We had a great month staying here and would recommend it to anyone!

Gary is a great host. His place is as advertised, very clean, great internet connection, nice TVs and well equipped kitchen. Then washer and dryer were a great bonus. Its an easy safe walk to 3 different subway stations. 2x on the C line and 1x on the J / Z line. We used the subway everyday and night. Did not have a need for a car. Thanks again Gary for a great staying experience.

Gary met my wife and I as we arrived at his apt. He was welcoming and gracious. As we entered the apt you are struck by the NY art work that adorned the walls. The apt was impeccably clean. The kitchen had every amenity imaginable. Each bedroom was well decorated with cable tv w/Netflix. The apt was stocked with breakfast foods, drinks, fruits and pastries. The bathroom was stocked with toiletries. We stayed here for 1 month and it felt like home. During my morning walk, I got to interact with neighbors. One can tell that Gary put a great deal of time and effort in insuring that his guest are his first priority. Thanks Gary our stay here was OUTSTANDING!!! We will return!!!

I stayed here for a first time in New York and such a beautiful experience. I had never rented apartments before so was a little worried about how things work but Gary made us feel so comfortable from the very first day. The apartment is beautiful; it is much better what you see in the pictures. You surely get more than what you expect. The house has all the essentials you need. The neighborhood is safe. The overall experience was amazing. Gary is a super host! He is very supportive and helpful. He made us feel home. He is always available to help you. He is a very reasonable and genuine person. And the best part he loves what he is doing. You will surely get a very good experience. I would anytime recommend this apartment to everyone! I met him as my landlord but left as a very good friend. Thank you Gary!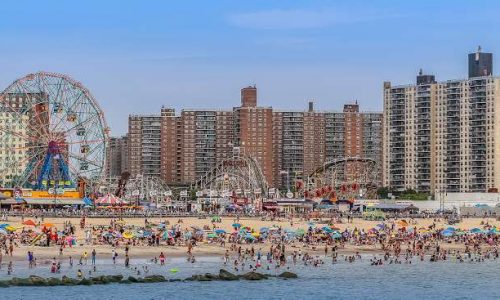 Coney Island
Transportation

Description

Coney Island is a residential Brooklyn neighborhood that morphs into a relaxation and entertainment destination each summer. Locals and tourists crowd its beach, the Wonder Wheel and Luna Park, an amusement park featuring the famed Cyclone roller coaster.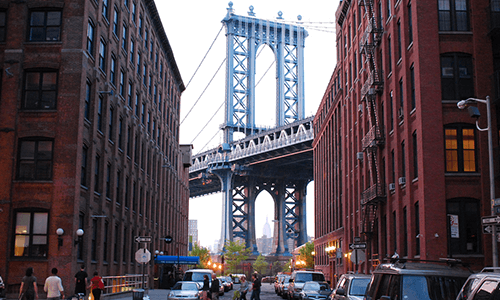 DUMBO
Transportation

Description

Trendy Dumbo's cobblestone streets and converted Brooklyn warehouse buildings are the backdrop for independent boutiques, high-end restaurants and trendy cafes. Near the waterfront, St. Ann's Warehouse, in a former tobacco factory, is the heart of a thriving performance and gallery scene.